N.B. TUTTO L'ABBIGLIAMENTO PELAGIC VESTE UNA TAGLIA IN PIU'
PELAGIC CORAL CAMO EXO-TECH
Part sunshirt, part hoody, part face shield – the Pelagic Exo-Tech is the ultimate force-field for your skin packed into a multi-functional long sleeve shirt to protect you from the sun's harmful and damaging UV rays. Offering UPF 50+ sun protection and an ultra-lightweight, Quik-Dry design, this shirt is constructed with our proprietary multi-stretch fabric featuring moisture-wicking and extreme-cooling properties. Complete with a Durable Water Resistant (DWR) coating, stain release technology, extra-large side air-flow vents, front zipper pouch, and an integrated face/neck sunshield, the Exo-Tech is the ultimate barrier to keep your skin protected in even the harshest of tropical ocean environments.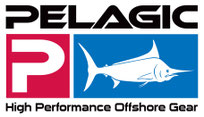 DELUXE LONG SLEEVE T-SHIRT
PELAGIC DELUXE LONG SLEEVE
You can't go wrong with a classic.  The Deluxe Logo long sleeve tee is the original PELAGIC design made from 100% high quality cotton, making it style with comfort.  Stamped with the High Impact PELAGIC Flag logo graphic, the shirt features a small front logo and much larger logo on back, with a small P Logo sewn onto the left sleeve.  Rock the PELAGIC name bold and proud with the original Deluxe logo tee.
ancora pochi pezzi
spedizione in 1-3 giorni1
PELAGIC FISH CAMO P-LOGO L/S
This classic P Logo design to the extreme! Like the fish camo  short, the Camo P long sleeve tee features a custom "FISH CAMO" pattern design.  Made from 100% high quality cotton.
ancora pochi pezzi
spedizione in 1-3 giorni1
PELAGIC CRUZER LIGHTWEIGHT HOODY
The Pelagic Cruzer Hoody is your lightweight outerwear solution to cooler weather days.  Perfect for brisk outings both on and off the water, this zip-up hoody is super-soft and comfortable, and made out of an ultra-lightweight cotton-poly blend.  Finished with a custom Pelagic Deluxe embroidery on the front-left chest, you'll be cruisin' in style while Celebrating the Offshore Lifestyle!
•    Color: Gunmetal Heather/Navy Heather
ancora pochi pezzi
spedizione in 1-3 giorni1
4-TEK ISLAND STRIPE SHORT
PELAGIC 4-TEK ISLAND STRIPE SHORT
The short that all anglers will appreciate!  Guaranteed to catch the eye of any fisherman.  Built with both anglers and watermen in mind, this super-stretch boardshort embodies next-gen design with 4-way stretch technology, and ultra-lightweight, Quik-Dry fabric.  Complete with side and back zipper pockets, and a lined utility/pliers pocket, this all-purpose boardshort will simply put you in the mood to go find some fish!

•    4-Way Stretch Technology
•    Ultra Lightweight Design
•    Anti-Microbial
•    Quik-Dry Fabric
•    Side and Back Zipper Pockets
•    Lined Utility/Pliers Pocket
ancora pochi pezzi
spedizione in 1-3 giorni1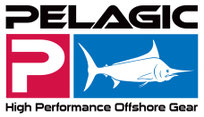 PELAGIC SOCORRO SHORT - Col. Kaki
Function, comfort, and style wrapped into one!  Leave home with peace of mind knowing you'll be heading out to sea in the ultimate fishing short.  The Socorro Short offers 100% "Quick-Dry" Micro-Tech poly fabric and stain-resistant power for slayin' 'em offshore.  A super-soft inner lining and adjustable waist band straps gives you the comfort and breathe-ability we all crave on the boat.  Combine that with 2 front pockets, 2 back pockets, 2 side cargo pockets with drainage holes, and a reinforced pliers pocket, and you are provided with plenty of storage to make your fishing trip a success!  Not only will you be catching fish, you'll be stylin' too!
ancora pochi pezzi
spedizione in 1-3 giorni1
PELAGIC FISH RED VISOR
Sizes: One Size
Color: Red
ancora pochi pezzi
spedizione in 1-3 giorni1